Restaurant and Café Magazine feature two ezlunch providers
01 May, 2021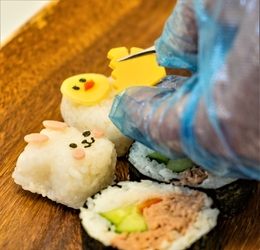 School lunches transform foodservice business model
Two Auckland foodservice businesses have built resilience into their business models and boosted revenue by teaming up with online school lunch service ezlunch. The unconventional partnership has allowed both businesses, a sushi shop and a café, to weather the impact of 2020 Covid-19 lockdowns, coming back even more strongly to exceed previous sales. These businesses are two of the 90 food service businesses working with ezlunch across the country – and the company is looking to bring more suppliers on board in 2021.
Ezlunch offers schools across the country a wide variety of healthy hot and cold school lunches and after school snacks by matching each school up with local cafés or food suppliers. Parents order online before 9am for meals to be delivered directly to the school before 12pm. Bob Han at Go Deli café explained that most orders come in between 8am and 8.30am, with parents ordering on their mobiles just before school drop off.
Located in Mairangi Bay on Auckland's North Shore, Go Deli was the first supplier to sign up with ezlunch ten years ago. Now Bob and his team deliver lunches to 52 schools, making between 1200 - 1500 meals every morning and sending them off on seven delivery routes. "We haven't sent out a late delivery yet," said Bob.
Since working with ezlunch, turnover has increased by 600%. Bob has taken on ten members of staff and built a new kitchen for Go Deli Catering run by Maggi Foldi. The catering business is 90% dedicated to filling ezlunch orders. "We work closely with the Heart Foundation to get accreditation, which means that our menus are assessed each year. This is really important to schools. We also use 100% recyclable packaging."
Additional delivery and packaging costs mean that ezlunch sales have lower margins when compared with walk-in sales in the café, but the revenue is more stable and there's less food wastage - and ezlunch proved to be a lifeline during last year's lockdowns. "Business dropped off when schools were closed but as soon as the children went back, orders picked up immediately and went on to exceed previous sales," said Bob. "We were surprised, but it shows that parents prioritise their children when it comes to spending."
Greg Taylor noticed the same uptick in ezlunch sales post-lockdown at his Whangaparaoa sushi business with a massive 50% increase in sales. Greg set up Sushi4U with his wife in 2013 as a conventional walk-in shop. He started a regular delivery once a week to one local school in 2016 but it was all analogue. "We collected a box with the orders, counted the coins and made sure everything added up – it was very laborious and there was lots of room for error," said Greg. When ezlunch took on the school in 2016, they approached Sushi4U to become a supplier five days a week, supported by an online ordering system and helpdesk team. "We were a little apprehensive about the 9am cut off and 12pm delivery but we were proved wrong," said Greg.
Sushi4U now supplies 11 schools, and the business is 99% ezlunch. In February 2019 Greg made the decision to close the shop to walk-in business and focus on catering. "It's really busy, high paced work to get lunches out to our schools but we're now earning more during in the 40-week school year than in the 51-weeks we previously worked. It's an early start but we're finished by 12.30pm."
Monday is a slower day for lunch orders so that allows time for ordering and background work like putting up themed menus for Easter, Halloween or Christmas or promoting any specials on the ezlunch system. "It's really easy to use and gives us the flexibility to limit sales of certain items or mark items as sold out if necessary. The system also allows us to limit orders if they're coming in too quickly. That helps us make sure we meet delivery deadlines – we've only had to do that two or three times in six years. Ezlunch is great to work with. If there's a problem the helpdesk staff are always friendly, they really promote our business. It's a great arrangement for us."
If you're interested in talking to ezlunch about becoming an ezlunch supplier, call 09 869 5200