Healthy online lunch menu as easy as pie
21 February, 2012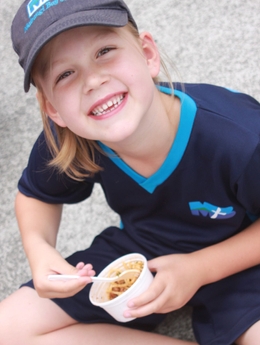 Sausage rolls and donuts are off the menu for school kids using an online lunch ordering system. Ezlunch has replaced junk food lunches in 26 schools Auckland wide since it was established in February last year. Mairangi Bay mum and Ezlunch director Sandra Finlay says around 7000 children are now ordering their lunches from her online menus. Mrs Finlay says she wanted to support super busy parents by providing healthy lunches, without the effort. Mrs Finlay says she became aware of food additives when her eldest son developed a dairy intolerance and wanted a way of providing effortless, risk-free lunches. "It's a bit shocking what's in our food. Why is there MSG and gluten in sausages? They're supposed to be meat. "I just figured we're in New Zealand, everything is clean and green and I suppose I was very trusting," she says. The mum of three was concerned to see other kids' lunchboxes filled with packets of "non-food". "Often both parents are working and it's tempting to send kids off to school with convenient rubbish," she says.
Once the school tuck shop shut down after government criteria for healthy school food, Mrs Finlay says parents were left with no choice. Thus Ezlunch was born, giving parents the ability to order lunches online or via text, using a prepaid account. Each school has a different menu compiled by Mrs Finlay and a local supplier with help from the Heart Foundation. Vegetarians, kids allergic to peanuts or with intolerances to gluten or dairy can have lunch combos delivered straight to school. Sushi is the number one seller, Mrs Finlay says, but "healthy pies" and mini-chocolate muffins are also a winner. Sunnybrae Primary was quick to jump on board with a growing number of schools, including 10 from the North Shore.
Sunnybrae Primary office administrator Oriel Charmley says around 20 students out of a total 350 order with Ezlunch each day. "I would say more parents will use it as time goes on. "The children do like the food. It's been good for those who can't have nuts or eggs," she says. The school hasn't had a tuck shop for 10 years and has rarely had issues with students' lunches, Ms Charmley says. "At the end of the day schools don't have the right to tell parents what to put in their lunchboxes." Plans to extend the service to disadvantaged school kids are in the pipeline, Mrs Finlay says. "Once we're established I will certainly find out who to work with to get some good food to them. "It's about access to computers as well as cost, so that is something we will need to look at getting around," she says.