October 2014 features ezlunch
17 October, 2014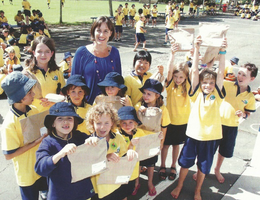 "The convenience thing is huge now, and we need it without it being a compromise."
'Convenience without compromise' is how Sandra Finlay describes her simple but brilliant tuckshop makeover for the 21st century. Frustrated by the unhealthy, traditional stodge being sold at her children's school, Finlay made up her mind - with no online background - that she was going to streamline the entire process by putting it on the internet and making it healthy.
And so her company EZ Lunch was born. Schools sign up for the programme, which sees local cafés and caterers make school lunches from a set menu. If parents want their children to get lunch from the service, they organise it all online. No fuss, no mess, and no having to root around for spare change to put in an envelope.
And the best part? The menu was approved by the Heart Foundation, based on Finlay's ideals of additive-free and colour-free food. "When my son first started school, their tuck shop wasn't anything that was particularly useful to me, as a parent who wanted to make sure the food that was going to my children was good food. We might use it once a term as a treat, but it wasn't useful for those emergency days when the bread's gone mouldy and you've run out of fruit."
Finlay, a mum of three, with one daughter who has intolerances to certain foods, decided parents needed a bit more assistance when it came to what they were getting from existing school systems, and started doing some research.
"We looked at exactly how many schools were in New Zealand, what sort of sales we could get through tuckshops, the use of technology in Kiwi households... All that kind of stuff that could try and give us an idea of what sort of sales we could expect, and therefore what kind of prices we could charge."
She admits a lot of the initial calculations were 'wrong when we got in there', but that was the start of EZ Lunch, which launched in 2011, two years after she came up with the initial idea.
"It was based around all the learning I had for my own children," Finlay recalls. "I still clearly remember standing in the middle of the supermarket, when I found out my daughter had food intolerances and just feeling overwhelmed by everything I picked up. It's an awful feeling to think you've been feeding these things to your children and you had no idea."
Taking NEXT behind the scenes in Dellows Kitchen, in Auckland's Herne Bay, we get to see EZ Lunch in action.
The cooks at Dellows have created fresh, individually packaged meals for local schools - lunchboxes filled with butter chicken, macaroni and cheese and sushi are piled up, each labelled with a child's name and room number. The system is now
available at 75-80 schools around New Zealand in Auckland, Hamilton, Tauranga and Christchurch.
"We have just reached the point where we're having schools ring us, which is fabulous," Finlay enthuses. "They see it happening in their neighbouring schools and think that it could work well for them. The convenience thing is huge now, and we need it without it being a compromise."
Her enterprise saw her win the Best Food & Beverage award at the Fly Buys Mumtrepreneur awards, which Finlay says made her family extremely proud - her daughter Kate picked her when asked to do a school project on an inspirational person, even though Finlay tried to sway her towards Sir Edmund Hillary or Helen Keller.
But she maintains that growing her own business came, at first, out of needing a job that would work around - rather than against - her role as a mother.
"Working full-time for another company wasn't ever 'The an option; there are just too many school holidays. It makes it really difficult for working mothers. I liked convenience the idea of doing something for myself, so if I do have to drop everything and go pick my daughter up from thing is huge school, I can.
"And that's been the same with everyone I've now, and we contracted - they're parents who would love to earn a need it without bit of extra money and have maybe 15 hours of spare time a week. There's a lot of talent out there - you don't it being a have to write off an entire sector of the population just because they have another role in life as well."