Principals Today magazine features ezlunch and Kindo
15 November, 2020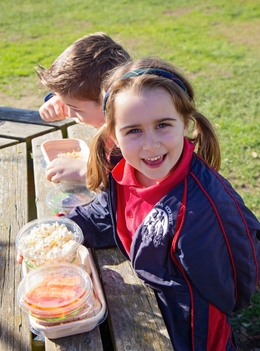 Contactless payments & trouble-free food
Food at school has become a hot topic with the upcoming launch of an expanded national school lunch scheme. Combine that with the challenges of COVID-19 that have pushed schools rapidly online for both payments and refunds and you'll see why Principals Today decided to take a closer look at New Zealand's first online 'one stop shop' for schools. We track the development of Kindo from an online school lunch solution to a comprehensive school payments system used by 330 schools, handling over 800,000 items per year.
12 years ago, Sandra Finlay came up with the concept of a new kind of school software that enabled parents to order healthy school lunches by connecting schools to fresh food suppliers. ezlunch launched in 2010 and subsequent investment in development saw the software become increasingly intuitive and capable of simplifying other school transactions. In consultation with schools, the system underpinning ezlunch was launched as Kindo in 2013.
Kindo offers a cost-effective way for schools to collect donations and attendance dues, sell uniforms and stationery, manage school trip and camp payments, sports subscriptions, permission forms, and fundraisers. Kindo was the first system to integrate with eTAP and now Edge, Linc-ed Hero and Kamar, delivering a 'single source of truth' to keep student details in sync while reducing payment administration.
Vauxhall School located on Auckland's North Shore and Paparoa Street School on the outskirts of Christchurch have followed different paths to the same decision, taking all school payments online using Kindo. Vauxhall School has 273 students on the roll and has been offering ezlunch to students twice a week for eight years. The primary is a feeder school for nearby Belmont Intermediate and Takapuna Grammar, and all three schools use the Kindo platform for student payments. Community familiarity with the system made it easy for Vauxhall School to expand beyond ezlunch to introduce Kindo in late 2019.
Shannon McNaughton is both school administrator and parent, so experiences Kindo from both sides of the fence. "It's awesome, so easy. Before we started using Kindo for student payments, we had to print off EFTPOS receipts to be photocopied, coded, and filed. We were using the finance component from our current Student Management System and every time someone paid, I had to go into each item manually.
"Kindo has done away with all that – it's a big time saving. With Kindo Payables, all items are coded from the start, reports are summarised, and all we have to do is input the totals into Xero."
On ezlunch days, Shannon gets a list of orders and the lunches arrive, labelled and ready to distribute. "We also use Kindo to run regular fundraisers like Jesters Pie days," she explains. "It takes me less than five minutes to set up an event on Kindo and send out a link in our newsletter – over 80% of students participated last term with zero parent help required."
When asked what she would say to other schools, Shannon McNaughton does not hesitate: "Just get it – from a paperwork and admin perspective Kindo takes away all the pressure."
Kindo and ezlunch were introduced at Paparoa Street School at the beginning of 2020. With no prior knowledge of either service, the school invested time to bring the PTA, office staff, Accounts and Principal, Pene Abbie, together for an initial meeting. The school was already using a local lunch provider and wanted to take everything into a single system, so Kindo quickly adopted Little Lunches as an ezlunch supplier.
PTA Chairperson, Niki Franklin took on school lunches as part of her role this year and directly manages ezlunch. "ezlunch is very flexible and Kindo offers lots of other opportunities for the PTA to set up ticket sales and fundraisers," she said. "We're excited by the simplicity. We ran a free sausage sizzle with registrations on Kindo to get parents up and running on the system. It all worked very well.
"No-one has cash anymore so it's great to be able to operate in a way that suits our community. The best thing about Kindo is the ease of adding items to sell, whether it's a fundraising event or a product."
Camille Lamond, office administrator at Paparoa Primary found Kindo 'relatively straightforward': "I was a little nervous at first, but we've already got most of our parents using Kindo. Kindo Payables is easy. You can send out invoice items to an individual class or year and set up groups for particular payments like sports team transport. It has really cut down the fiddly admin side of my work." With her newly discovered free time, Camille has been able to embark on some personal development and is enjoying working in new areas.
Leaving the last word to the two Principals, Pene Abbie, Principal at Paparoa Street Primary said the most important benefit has been parents' ease of access to payments: "The clear win for us has been our parents' ability to obtain the things they need for their children within the school environment and the individualisation enabled by Kindo. We saw an initial impact on the collection of donations and other payments — COVID has changed that but the potential is definitely there."
Gary Lawrence from Vauxhall School commented: "We're pleased that we've gone down the path of having all payments and fees in one place. Kindo makes it easy to raise funds through community events — this means we can reinvest those funds back into the classroom, providing more learning assistant hours."